Dozens of Yad L'Achim Survivors Offer Heartfelt Prayers at Rachel's Tomb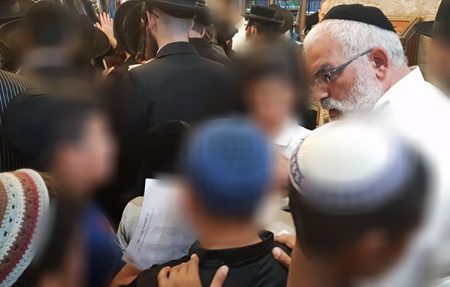 Dozens of Jewish women rescued by Yad L'Achim from Arab villages over the past year came to Rachel's Tomb on the occasion of her yahrtzeit and offered heartfelt prayers.
Among the women were those rescued from Umm el Fahm, Tulkarem, Issawiya, Qalansawe, Yatta and other villages.
"There was a tangible feeling of 'And the sons returned to their borders,' " said Mrs. Surie Kostelitz of Yad L'Achim. "Here were Jewish women who'd been held captive in foreign hands and been subjected to harsh violence, and they were offering prayers at the very place that symbolizes Rachel Imeinu's concern for her descendants suffering from captivity and cruelty. The survivors couldn't control their emotions.
"But other women who were there were also moved to learn that they were praying alongside survivors who'd been rescued by Yad L'Achim. They felt the powerful connection between Mamme Rachel and these lost girls who'd made their way back to their people and families.
"For most of the survivors, this was their first visit to the holy site and the experience left a deep Jewish imprint."
One woman, who had led a very difficult life and was forced to marry at 15 to an Arab from a hostile village in Judea, sobbed uncontrollably. At the conclusion of the prayer she told the social worker accompanying the group that she comes to Rachel's Tomb often and that each time feels like she's come home to her mother.
From there the women proceeded to a restaurant in Yerushalayim where they learned about the life of Rachel. They heard an hour-long lecture from Rabbanit Orit Solomon replete with midrashim and insights that were relevant to their lives as survivors.
Rabbanit Solomon emphasized the power of giving in and of quiet dignity that is learned from Rachel and the spiritual greatness our matriarch displayed in the face of great difficulties. This message of experiencing growth through hardship gave them a push to continue advancing spiritually, many later said.
A few days earlier, 20 children of these women, who had also been rescued from Arab villages, were brought to Rachel's tomb and given a chance to learn about her life.
Yad L'Achim took advantage of the rare opportunity to have the children utter a prayer on behalf of Yad L'Achim's donors. The children were only too happy to pray for those who've contributed to Yad L'Achim's Pidyon Shvuyim activities, in gratitude to the kindhearted Jews from around the world who have saved their lives, delivering them from darkness to great light.