Even on Purim, Yad L'Achim Wages Battles Against Cults
05/03/2018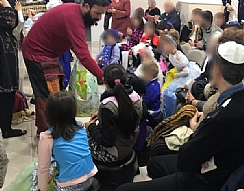 The battle between Yad L'Achim and members of the Messianic Jews cult continued over Purim last week.
Yad L'Achim activists had received information that the missionaries were planning to pounce on Purim, organizing events designed to get Jews to convert out of their religion, and responded by organizing a range of activities of its own that presented a truly Jewish alternative.
In the week before Purim, these activities focused on purchasing, packaging and delivering hundreds of Mishlo'ach Manos food packages to Jews who were successfully extricated from missionary cults by Yad L'Achim over the past year, or who are still in the cults but beginning to make their way out.
These packages were personally delivered by Yad L'Achim activists who took advantage of the opportunity to make home visits and discuss the meaning and lessons of Purim for our days, including the importance of overcoming those who seek to harm us.
On Purim day, the activities went into high gear, with Yad L'Achim organizing events in four cities where missionaries are active that included the reading of the Megillah and a festive meal. In each of these cities, Jews were attracted to events that focused on the special day, ignoring the events the missionaries had planned for them.
Based on the warm, emotional response to its programming, Ya
d L'Achim officials expressed confidence that many of those in the clutches of the cults would make their way back to the Jewish people.