Haifa: Yad L'Achim Persuades Chess Teacher to Leave Missionary Club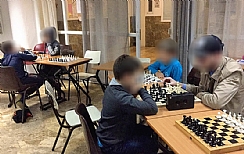 Missionaries in Haifa have been on Yad L'Achim's radar for some time now. Of late, they have been attracting children and youths via after-school programs, including those in computers, art and, the biggest draw, a chess club led by a professional instructor.
Yad L'Achim fought back by opening clubs of its own, but this didn't succeed in completely halting the flow of young Jews to the missionary-run activities. Yad L'Achim decided to go straight to the top, meeting directly with the professional chess teacher who ran the missionary club.
The counsellor was stunned to learn that he was being used by the missionaries to lure young people to their facility with one goal in mind: To get Jews to leave their faith.
He immediately decided to sever all ties with the place.
But Yad L'Achim wasn't content with getting him stop teaching at the missionary facility; it convinced him to come over to Yad L'Achim's chess club and serve as an instructor, turning it into a huge draw for youths of all ages.
Rabbi Shaul Burstyn, who is responsible for special activities at Yad L'Achim, said that the new clubs are growing and developing at an unprecedented rate, with more and more children joining every day.
He added that Yad L'Achim is organizing a huge Chanukah party for all the children participating in its after-school programs and their parents, to introduce them to the light of Judaism.
"We're talking about a revolution," Rabbi Burstyn said. "Hundreds of children who previously were part of missionary clubs are leaving daily and joining Yad L'Achim."