How Yad L'Achim Acts To Shut Down a Missionary Soup Kitchen in Ashdod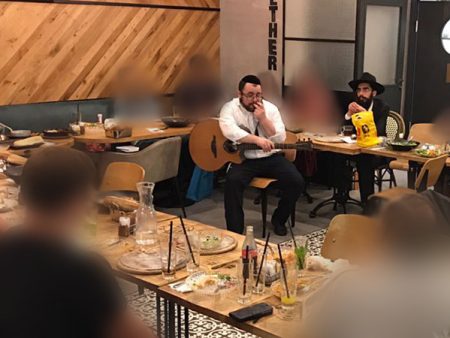 Calls to Yad L'Achim's 24-hour hotline revealed a new flashpoint in the battle against missionaries. A missionary congregation in Ashdod, operating behind the innocent-sounding name "Beit Hillel," was distributing weekly food baskets to dozens of needy immigrant families, mostly from the Former Soviet Union, with the intention of befriending them and getting them to convert out of their religion, R'l.
Yad L'Achim immediately grasped the danger. The missionaries, seeing that no government agency or private non-profit was helping the immigrants put food on their table, seized the opportunity to gain their confidence.
Activists from Yad L'Achim's countermissionary department were dispatched to the food-distribution point in Ashdod to warn the immigrants of the nefarious intentions of the missionaries. They were stunned to discover an Orthodox couple from Mexico waiting in line for help.
In a concerted effort, the activists managed to obtain phone numbers and contact information for each of the 60 Jews who came to Beit Hillel every week and devised a plan to help them.
This past Monday, Yad L'Achim held a special evening under the heading "Torah, Pizza and Guitar." Participants were served a hot, satisfying meal, and enjoyed a musician who sang Jewish songs in Russian. Blow-up toys and rides were provided for the children.
The highlight of the evening was a presentation by Yad L'Achim describing a host of assistance programs that made it unnecessary to turn to the missionaries.
The programs include a soup kitchen run by the Mana B'Chama organization that provides daily hot meals, food vouchers that can be used at major supermarkets, help in filling out requests for assistance from the Yad Ezra v'Shulamit charitable organization and, the jewel in the crown: a new membership card issued by Yad L'Achim that grants them a wide range of benefits.
Yad L'Achim singled out for praise the efforts of Rabbi Avi Amsalam, a member of the Ashdod city council representing Shas, who worked hard to find solutions for these desperate Jews, and Rabbi Simchah Koliakov, head of Chabad B'Aliya, who made his building available for Yad L'Achim's activities.
Rabbi Chanoch Gechtman, head of Yad L'Achim's countermissionary department, commented: "This special evening taught us that darkness isn't driven away by sticks, but by light. Only by presenting suitable alternatives did we succeed in pulling the rug out from under the feet of the missionaries. We believe it won't be long before the missionaries are forced to close their facility due to a lack of interest."
Those who attended the evening announced that they would sever their ties with the missionaries and tell their friends to do the same, in light of the alternatives that Yad L'Achim presented.
Meanwhile, Yad L'Achim will continue to dispatch activists to Beit Hillel every week to warn passersby that it is a missionary operation. "In Ashdod, and around the country, we won't rest until the missionaries leave innocent Jews alone," a Yad L'Achim official stressed.