Hundreds of Missionaries Participate in Massive Independence Day Campaign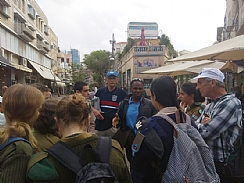 No fewer than 250 missionaries from Canada, the United States, Britain, South Korea and Russia have been circulating around Israel as part of a widespread campaign of the Christian cults "Messianic Jews" and "J's Witnesses." Their activities peaked on Independence Day, when hundreds of thousands of Israelis filled the parks and other recreational sites.
The missionaries took up positions in many cities, including: Tel Aviv, Rishon LeZion, Holon, Bat Yam, Rehovot, Kfar Sava, Lod, Modiin, Maale Adumim, Maalot Tarshicha, Kfar Adumim, Upper Nazareth, Petach Tikvah, Bnei Ayish, Karmiel, Zichron Yaakov, and others.
Yad L'Achim reports that its hotline received many hundreds of calls from concerned citizens in the wake of the missionary assault and that this campaign has become part of a pattern.
"Every year, at this time, many missionaries arrive in Israel to take advantage of these days to try and get innocent citizens to convert out of their religion," a Yad L'Achim official says. "The missionary activities reach their peak on Independence Day, which they cynically take advantage of to reach out to the masses who fill the streets and the national parks.
"Our activists go to wherever the missionaries operate, to warn passersby of the danger they pose. We are also on alert for Independence Day itself, and beef up our staffs in the field with dozens of additional activists."
Yad L'Achim officials say that the missionaries' chutzpah is compounded by the date they choose for their campaign. "We have documentation showing missionaries belonging to the Messianic Jews cult preaching to soldiers on Yom Hazikaron – Memorial Day for the Fallen Soldiers of Israel and Victims of Terrorism – taking advantage of the sensitive nature of the day."
Meanwhile, the heads of J's Witnesses declared at the end of the 1930s that they "believe in the high ideals of Hitler" and later even termed Israel "the head of the Satanic Cult."
"This attempt to harm the Jewish people, taken together with the cults' history, is particularly infuriating," Yad L'Achim said in response.
Rabbi Shmuel Lifschitz, one of the heads of Yad L'Achim, recalled that he has appealed to the Interior Ministry to ban the admission of foreign missionaries into Israel.
"The Christian missionaries come here with the goal of getting Israeli citizens to convert out of their religion and as such represent a danger to the foundations of Jewish life in Israel," he said.
"The missionaries mislead the law-enforcement agencies and show up at the borders claiming to be simple tourists, while in reality their objective is missionary activity. The battle the Interior Ministry wages against them must be identical to its tough and successful campaign against BDS."