Missionaries Distribute 'New Testament' in Yiddish in Meah Shearim
03/06/2018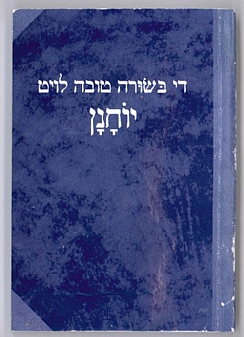 The chutzpah of the Messianic Jews cult knows no bounds. This week, as part of a widespread missionary campaign that began a month ago focusing on chareidi neigborhoods in Yerushalayim, residents on Meah Shearim Street were stunned to discover copies of the "New Testament" – in Yiddish!
The distribution of such material at night, under cover of darkness, in the heart of Israel's most established chareidi neighborhood proves that the missionaries aren't afraid of anyone or anything, and continuously raise the stakes in their provocations, officials at Yad L'Achim noted.
The latest campaign was a deliberate provocation aimed not only at hunting souls but at shaking up the public domain and sparking outrage. In the past, Yad L'Achim conducted an effective PR campaign to combat the distribution of Yiddish-language missionary disks in chareidi centers in New York, but this is the first time in many years that something like this has happened in Israel.
As soon as Yad L'Achim received reports on what was happening in Meah Shearim, it dispatched dozens of activists and volunteers to the neighborhood and collected hundreds of books that had been placed at the entrance to homes and stores. At the same time, it publicized warnings to the public alerting them to the missionary deception, while continuing to monitor developments in the broad-based missionary campaign.
As revealed last month, the cost of the current missionary campaign comes to no less than $1.8 million, some of which went to plastering notice boards in chareidi neighborhoods with deceptive messages delivered via innocent-looking comic-strip characters.
The notices were so devious that the number to contact for more information was that of a kosher cell phone, in order to remove any suspicions as to the credibility of those behind the notices.
Based on its rich experience, Yad L'Achim against asks the public not to try and contact the missionaries, not to engage them, or attempt to show them the error of their ways.
Instead, people should contact the Yad L'Achim hot line, which operates 24 hours a day, at 1800-620-640, and report on any and all missionary activities.