Missionaries Issue 'Decoy' Magazine to Counter Yad L'Achim's Successful Searching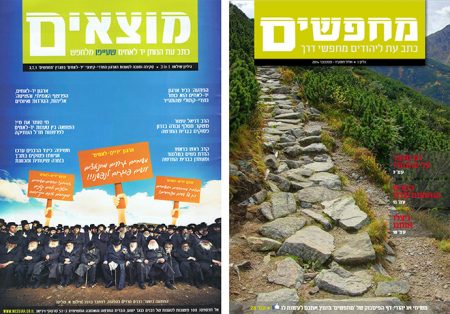 Over the past year, cracks have been appearing among the rank and file of Israel's "Messianic Jews" cult. The disarray began when Yad L'Achim came out with a glossy magazine called Searching, which addresses Jews who've been exposed to the cult's message.
The magazine, which recently came out with its third issue, includes riveting interviews with Jewish families who had been lured into the cults and then left after becoming acquainted with Yad L'Achim activists.
Searching, which is distributed in Hebrew and Russian among visitors to some 150 Messianic congregations in Israel, gives survivors of the cult an opportunity to expose the lies and ruses used by missionaries and share their joy at having returned to their people and faith.
The magazine features columns that answer questions that confront people who've been exposed to missionary material, stories on Jewish outreach centers around Israel that offer a chance to learn about a spiritually enriched life based on Jewish values, and thoughtful articles on Judaism.
It includes a comics series that takes humorous digs at the activities of the missionaries and their false doctrine.
Thanks to Searching many cult members have reached out to Yad L'Achim, some of them secretly. The most famous story is that of an individual who is a great- grandson of a towering Torah giant who left the cult because of the magazine.
Yad L'Achim has received information from many sources, including people who were cult members, that the "Messianic Jews" movement is under increasing pressure. It is know that several senior members of the cult have quit and that the remaining leadership is making every effort to try and "calm things down."
In recent days, the cult has made a desperate effort to fight back, issuing a magazine of its own called Finding. The magazine's design is almost identical to that of Searching, in an attempt to confuse readers into thinking they are reading Yad L'Achim's publication.
Yad L'Achim has learned that Finding is viewed as a big disappointment in missionary circles, as it fails to respond effectively to the charges raised by Yad L'Achim against the cults and their false beliefs.
Yad L'Achim officials marveled this week at the extent to which the missionaries have gone in using their well-oiled PR machine to create materials aimed at luring Jews. First, there was Finding, their pathetic response to Searching. And then there was the launch of an online platform for cult members dedicated to short films offering "answers" to Yad L'Achim's challenges.
Yad L'Achim announced this week that its publications department is putting the finishing touches on the fourth issue of Searching in order to increase the pressure on the missionaries. In addition, the first three issues are being translated into English, for English-speakers in Israel and Jews around the world.
Yad L'Achim officials reiterated that "we will continue to provide a fitting response for Jews who stray and to take every legitimate step to remove Jews from missionary cults and return them to the ways of their fathers."