Probe by Yad L'Achim's 'Searching' Magazine Reveals:'Rabbi' Who Converted to Christianity Is Hungarian Farmer Accused of Theft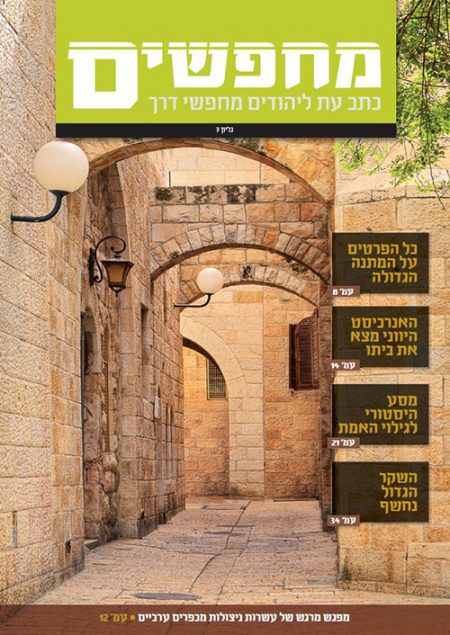 An investigative report in the most recent issue of Yad L'Achim's Searching magazine reveals that a "Rabbi" from Hungary whom the missionaries claimed converted to Christianity has been tried in the United States for impersonating a Rabbi. The report brings authentic documents proving that the "Rabbi" is actually a farmer accused of theft who ran away from Hungary.
Issue No. 7 of Searching, published by Yad L'Achim's information department, hit the streets of Israel just last month. The magazine is written for people who are being targeted by cults.
The cover story is a fascinating interview with a former senior missionary in Greece who converted Jews on behalf of the "Messianic Jews" Christian cult. But after being confronted with the many contradictions in Christian teachings he understood his mistake and converted to Judaism, together with his family.
The interview was conducted in Jerusalem, and his picture shows a man who looks and dresses like a person who has always been a religious Jew.
The latest issue of Searching also includes the story of a Jewish woman who after the fall of the Iron Curtain came under the influence of Christian missionaries and became one of the heads of the largest Protestant church in Kiev, the capital of Ukraine. In this capacity, she convinced many Jews to join the church. She tells of the process she and her family went through, discovering the lies of Christianity and abandoning the church, even though it meant giving up a huge salary and a life of luxury.
This new issue of Searching includes other fascinating columns and features that demonstrate the truth and beauty of Judaism. One article explains how Shabbos is a special gift given the Jewish people by the Creator of the universe, as well as the rationale behind the safeguards the Rabbis implemented to protect it.
The magazine includes amazing stories of Divine intervention, Jewish history in light of recent archeological finds and articles directed at Jews who have been caught up in missionary cults. There is also a comic strip that exposes the missionaries and their lies, and ridicules them.
The latest issue of Searching was distributed last month to thousands of Jews who have been ensnared by missionaries across Israel. Yad L'Achim activists have been handing out the magazine at more than 150 missionary congregations to Jews arriving to hear lectures and participate in Christian services.
Based on the success of earlier issues of the magazine in getting many to leave the cults, Yad L'Achim has high hopes that the current issue will awaken Jews to do teshuvah and return to Judaism.
Issue No 7 of the magazine is already being translated into Russian and English, to provide Russian and English-speaking Jews with the tools they need to fend off the missionaries.