Stunning Revelation: Ashkelon Youths Baptized Off City's Coast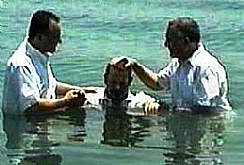 Ashkelon is reeling from the news that two senior missionaries baptized a number of young Jews in the waters off the coast of the southern city. The youths, who live in the city and attend local schools, include two brothers, aged 16 and 17.
A quick check by Yad L'Achim revealed that the baptisms are part of widespread missionary activities in Ashkelon. The two missionaries had set up a church in a private home in the city center with the goal of converting Jewish youths to Christianity. Yad L'Achim learned that the church is regularly visited by dozens of youths.
The family of the two young brothers who were baptized called Yad L'Achim for help. Activists were immediately dispatched to the home, where they found shocked parents who were beside themselves with sorrow.
"Our sons are at this moment under the devastating influence of missionaries," said the father. "They don't want to go to school, they've cut off contact with their friends, and refuse to share what they're going through – even with us."
He added that the youths are insisting that they be allowed to continue their contact with the missionaries… otherwise, they will hurt themselves.
Acting on the advice of Yad L'Achim's lawyers, the parents filed a complaint with Ashkelon-Lachish police on the grounds that the missionaries had violated Clause 368A of the penal code, which forbids preaching to minors (under age 18) to get them to convert out of their religion.
Yad L'Achim brought incriminating evidence of the baptism to the attention of the general media, which publicized the story and asked the police for a reaction.
In turn, the police opened an investigation. It started by calling in the two brothers to hear how the missionaries had established contact with them.
Rami Sofer, deputy mayor of Ashkelon who holds the social welfare portfolio, announced that he is studying the matter and intends to file a police complaint over the missionaries' cynical attempts to lure young people. "Our country is the country of the Jews," he said. "I have no arguments with any Arab or Christian who wants to live as he sees fit, but in Ashkelon I view this [missionary activity] with the utmost severity."
Officials at Yad L'Achim stressed that S., one of the missionaries who baptized the children, is known as an aggressive, violent person. "A few months ago he was taken off a Lufthansa plane to Berlin by border police after he preached to travelers to convert to Christianity, as they waited to board their plane," one said.
Rabbi Chanoch Gechtman, head of the counter-missionary department at Yad L'Achim, announced that the organization is launching a major information campaign among youths in Ashkelon to warn them of the missionaries.
"At the same time, we are making every effort to shut down the missionary center, which harasses Ashkelon residents," Rabbi Gechtman said.