Tel Aviv Refuses to Remove Missionary Booth, Citing 'Religious Freedom'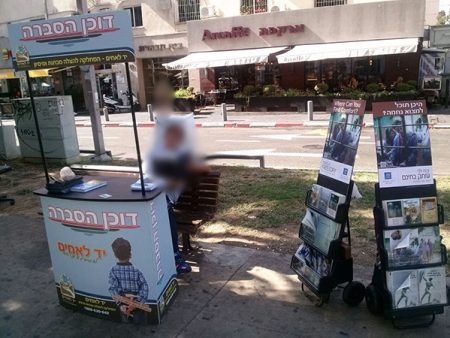 It's been a while now since the cults began operating booths filled with dangerous missionary material in major cities. They aren't content with merely handing out their material to passersby; they convince people to divulge their personal details so that they can stay in touch, with the goal of eventually getting them to convert to Christianity.
Yad L'Achim teams familiar with the missionaries' deployment map set up their own booths nearby, distributing anti-missionary material and pamphlets that describe the beauty of Judaism. It is moving to note the reaction of the passersby when they are told that the other, innocuous-looking booths are run by missionaries seeking to convert them.
At the same time, Yad L'Achim's legal team is working intensely to find grounds for evicting the missionary booths. Just recently, it turned to the Tel Aviv Municipality with a request that it take down a missionary booth that is put up every weekend on Rothschild Street because it offends the sensibilities of residents.
Meanwhile, after consulting with Yad L'Achim, residents who live in the area signed a petition to City Hall: "How can the Tel Aviv Municipality grant a permit to a fanatical missionary cult to set up shop under our homes and disturb the peace of residents?" The petition was signed by dozens of residents, who gave their addresses and details.
However, the municipality refused to remove the missionary booth on the grounds that it would be an "infringement of freedom of religion." In response, Yad L'Achim decided to set up an information booth of its own next to the missionaries.
Last week, the missionaries, seeing the influence of the Yad L'Achim booth on passersby, called the police and filed a false complaint. They claimed that Yad L'Achim was operating its booth without a city permit.
The police approached Yad L'Achim's activists and were surprised to see that they had a permit. They chastised the missionaries and instructed them not to bother the Israel police again.
At the start of the new Jewish Year, Yad L'Achim reissued its call to religious and chareidi ministers and MKs to do everything in their power to pass a law making missionary activity illegal, thereby putting an end to the shemad campaign that is being conducted around the country.