Yad L'Achim Reaches Ashdod Residents Influenced by Missionaries With Special Event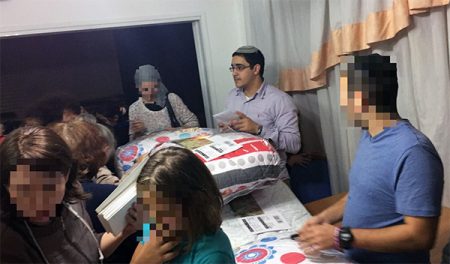 Against all odds, Yad L'Achim succeeded in foiling a missionary campaign in Ashdod targeting immigrants from the Former Soviet Union, pushing back the darkness of false beliefs with the light of Judaism.
The high point was a special Chanukah party for Jews who were participating regularly in missionary activities at a church called "Beit Hillel" on Organim Street in Ashdod.
The party, which to everyone's surprise was attended by 50 FSU immigrants who form the backbone of the local missionary congregation, featured a candle-lighting ceremony and moving stories about the miracles of Chanukah.
The missionary campaign in Ashdod has intensified over the past year, with attempts at getting Jews "to forget your Torah and transgress your laws" by distributing food baskets to new immigrants, mostly from FSU.
The first stage of the campaign netted the missionary congregation 100 Jewish members, R"l.
Additional information reaching Yad L'Achim pointed to progress in the missionaries' construction of a facility on Rechov Ha'Oferet which is meant to serve as a their permanent home in the city. The site is the focus of a fierce battle being waged by Yad L'Achim in its attempt to prevent the new center's establishment.
In its attempt to rescue Jews from the missionaries, Yad L'Achim obtained the phone numbers of those who frequent the congregation on a regular basis. The goal was to reach out to them, enlighten them as to the beauty of the Jewish world and address their loneliness and need for social events.
These Jews, many of whom are straddling the fence and trying to belong to both camps, were personally called by Yad L'Achim representatives and invited to participate in a Chanukah party that included many attractions.
Some 50 Jews arrived, all participants in missionary activities. For some, it was a first opportunity to take part in a Jewish event. They were warmly welcomed by Yad L'Achim staffers, as an orchestra comprised of FSU immigrants played Jewish songs in Russian.
The event opened with the lighting of Chanukah candles and was followed by the distribution of jelly doughnuts. Rabbi Alex Nostrov, coordinator for immigrant absorption in Yad L'Achim, spoke stirringly of the story of Chanukah and the Jews who assimilated. "In every Jew there is a small flask of pure oil that the missionaries, today's Greek Assyrians, won't succeed in rendering impure. It is up to us to find that flask of oil and light it."
At the conclusion of the evening, each participant received an elegant Chanukiyah, candles and explanatory booklets, in addition to down blankets … courtesy of an anonymous donor.
Rabbi Chanoch Gechtman, head of Yad L'Achim's countermissionary department, noted that several of the participants stood up at the event and publicly announced that they would never again visit the missionary center.
Moreover, he added, "a significant number of the participants asked to participate in Torah classes or to regularly meet with a partner to study one-on-one with Yad L'Achim activists."