Yad L'Achim to DA: Police Routinely Close Criminal Cases Against Missionaries
01/09/2016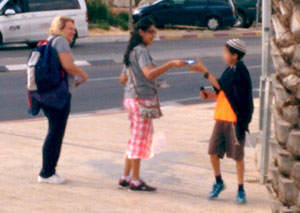 A month after the Israel Police decided not to press charges against a missionary who distributed material to a Jewish minor in the Modiin area, on the grounds that there was no "criminal guilt," attorney Moshe Morgenstern, a member of Yad L'Achim's legal team, fired off an urgent letter to state prosecutors asking them to investigate why police closed the case for no good reason.
The incident occurred four months ago on Tzalon Street in Modiin. A local resident documented a missionary approaching her young son and handing him missionary material aimed at convincing him to change his religion. The shaken mother turned to Yad L'Achim with evidence that left no doubt as to what happened. Yad L'Achim explained to the mother that the matter involved a violation of clause 368A in the penal code explicitly stating that "one who conducts a ceremony converting a minor out of his religion or who does any other activity that brings him to leave his religion, is punishable by six months in prison."
Yad L'Achim and the boy's mother then filed a complaint with the Modiin police, but after just a few weeks, the police sent a laconic response stating that it had decided "not to continue investigating or to try" the missionary since the action included "no criminal guilt."
Morgenstern notes the intolerable ease with which the police decided to close the case. He turned to state prosecutors with a detailed letter explaining where the police erred in reaching their decision. In his letter, Morgenstern stresses that he was appealing "the very closing of the file and the reason for the action," which flew in the face of the penal code.
He stressed that his client had asked to receive the material in the police file and that even this simple request was denied. He added that according to information in his possession, "the number of indictments that have been filed in cases relating to the missionary law is nil and files are close as a matter of routine."
Morgenstern hinted that there was some "hidden hand" that ensured that cases concerning criminal activities by missionaries were closed.
Yad L'Achim stresses that "if the enforcement agencies have no interest in conducting judicial procedures in such a fateful matter that impacts the future of the Jewish people, the state of Israel will end up both undemocratic and un-Jewish. The attitude of the prosecution toward missionaries in Israel, as can be proven from this case, is scandalous and we hope that the chareidi parties will come to their senses and act on the matter."
"The files are routinely closed." The appeal filed by Yad L'Achim's lawyer – Click here to read the letter