Yad L'Achim Warns: Christian Symbols Given Public Prominence at Year-End Holidays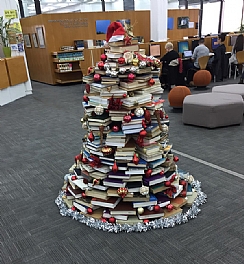 While Jews abroad go to great lengths to distance themselves and their families from the Christian symbols of the year-end holidays, some elements in Israel have embraced them. Schools, businesses and even municipal authorities have given X-mas trees and other Christian symbols prominent display.
Yad L'Achim has been inundated with calls from pained Jews asking for help in putting a halt to these displays. Some of the callers stressed that they had immigrated from France, the United States, Britain and the Former Soviet Union to escape such public celebrations only to find them in Israel.
At the Zalman Eren Junior High School in Rishon Lezion, for example, an X-mas tree was placed in a central location, infuriating many parents who asked why the school couldn't teach seventh graders Tenach but could make such efforts to highlight Christian practices.
Tel Aviv University put up a tree in the center of the library, upsetting even non-religious students who said the "Christian atmosphere" didn't fit the character of a public institution in Israel.
But the Haifa municipality took the cake. It invited the general public to participate in "X-mas Tours" during which they would visit local churches, hear about the customs of the holiday and meet "Catholic Scouts" planning to embark on religious parades. The municipality boasts that it is "drawing closer religious groups," but in reality it is drawing Jews closer to centers of idol worship.
Yad L'Achim officials said they were shocked at the number and nature of the calls they'd received. "In recent years, the phenomenon has worsened and it appears that the proper balance in the public domain has been disturbed," said one. "There is this inexplicable drive to marginalize Judaism and to highlight symbols of other religions."
The counter-missionary organization stresses that "the brandishing of these symbols is particularly infuriating in light of the fact that some of these groups don't bother to mark Jewish holidays publicly, like Chanukah, which we recently celebrated."